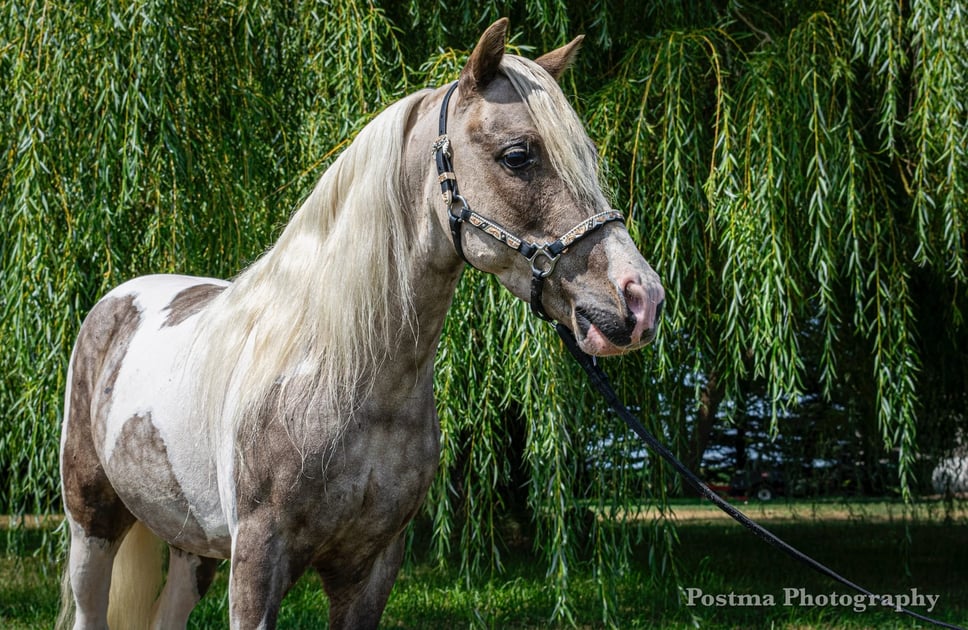 Meet Wesley, a 32-inch, 8 year old Miniature horse gelding and his trainer, Kailee Mullins of Kailee Mullins Training near Davis, SD. #ShowdownTeamWesley is competing in the Pony Division of the 2023 Dakota Showdown Horse Trainer Challenge
Wesley embarked on the Dakota Showdown as a newly gelded, full of testosterone, and somewhat pushy little horse. However, he has experienced tremendous growth and has fully embraced his new status as a gelding, shedding his pushy demeanor in the process. All he needed was someone to trust and learn with!
Wesley is an outstanding horse when it comes to in-hand work and would be an excellent choice for a 4-H horse for any young rider. He is highly responsive when led by a halter and thrives on learning new skills. While he has already begun his training in driving, he would benefit from someone who can continue his driving education. If you have concerns about teaching him to drive, Kailee, his trainer, is willing to complete his driving training after the Showdown. Wesley has put in a lot of effort in Showmanship and obstacle training, mastering various technical maneuvers commonly seen in AMHR obstacle classes.
To truly flourish, Wesley needs a home with someone who will invest time in earning his trust. He would be a perfect fit for a 4-H household, as his handsome appearance deserves to be showcased. Wesley adores being pampered and is well-behaved for the farrier. He is also a breeze to clip. While he tolerates baths, he still isn't overly fond of them.
About Kailee Mullins
Kailee Mullins has an impressive track record of showcasing Miniature Horses and Ponies for a decade, participating in prestigious competitions such as AMHR, ASPC, NSPPR, and ASPR at both local and national levels across the United States. Throughout her career, she has had the privilege of working with a diverse range of Miniature Horses and Ponies, each presenting their own unique challenges.
Kailee's training approach is founded on principles of kindness, patience, and rewarding positive behavior. She firmly believes in establishing a strong bond with the horse, utilizing that connection to facilitate effective training. From completely unstarted horses to those in need of a refresher, Kailee has successfully worked with horses of all ages and backgrounds. When it comes to Miniature Horses and Ponies, she places great emphasis on groundwork, engaging them in activities like obstacle courses and jumping to build trust before delving into driving training. Overall, Kailee's training style is characterized by patience, kindness, reward, and a meticulous step-by-step approach that helps horses adapt and process new experiences.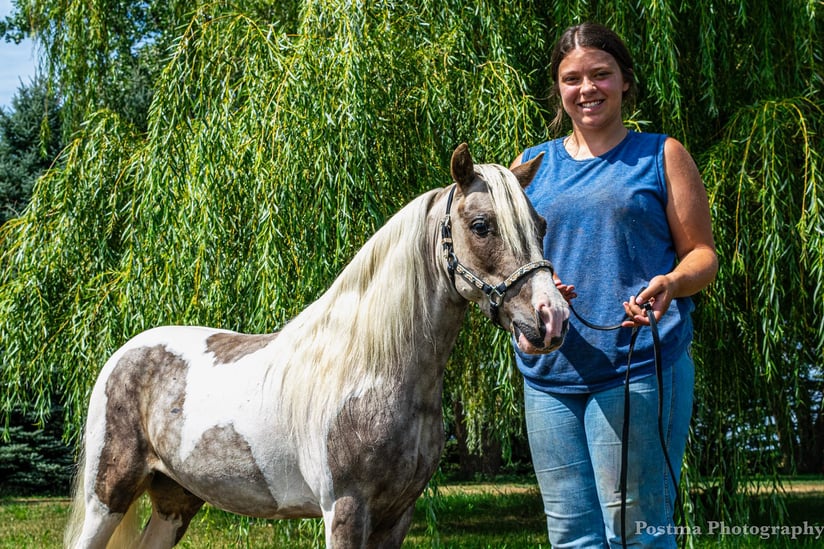 From His Trainer

I really can't wait to see where this little guy goes cause he really has changed a lot and I'm going to miss him!
About Wesley's Ideal Adopter
To truly flourish, Wesley needs a home with someone who will invest time in earning his trust. He would be a perfect fit for a 4-H household, as he loves to learn and try new things, and enjoys people in general. Plus, he's a beauty!
Wesley's History
Wesley first came to Gentle Spirit Horses Rescue as part of a community support case where we provided short term boarding for two miniature horses for an owner who lost her boarding environment overnight due to circumstances outside of her control. When they showed up, Wesley was a bonus - his owner, who owned the boarding environment - didn't want him so said if she wanted him, to take him! He was allowed to roam the property freely and often went to visit neighbors, a stallion, and did not want to be caught or touched at all! But we could tell there was a smart and curious boy so once he was gelded, he was entered into the Showdown to see what he would do.
Adopt Wesley at the Dakota Showdown Finale
The Dakota Showdown horses will be available for adoption under the Gentle Spirit Horses Rescue contract (or Little Hooves Miniature Horse Rescue contract for ponies KC, Diamond Dave, Belle and Tinkerbelle) to approved adopters through an online bidding process on August 12-13, 2023. The starting bid is $1200. Appointments to meet the horses you are interested in on August 12 are greatly encouraged.
Photography provided by Postma Photography